It's about more than math. Here are 5 unique differentiators to know.
If you are reading this article about structural engineering, then you likely already know what it is. Designing and analyzing structures, ensuring structures are safe, reliable, and able to withstand all of the ongoing pressures and forces of daily use.
What you may be interested in, however, is why it matters whom you choose for your project.
Engineering firms exist in a competitive marketplace, just like every other for-profit organization. While math and engineering concepts are undeniable laws, how the organization puts these rules into practice is what sets one engineering firm apart from another. Things like experience and principles matter when it comes to project success.
Therefore, you have a choice. Here are some tips on finding the structural engineering firm that fits your expectations.
1). Experience: Knowing the mathematical models and computer simulations is one thing. Knowing the impacts of these data lines against the success of the overall project is something else. It takes having done a few of these to know more than just the facts and figures. An experienced firm will be able to show you a portfolio of successful projects, not just photos of structures that were built
2). Employee satisfaction: The way an engineering firm treats its people is likely how they'll treat you. At TTR, we have a work environment that focuses on Integrity, Family First, Extreme Ownership, and Purpose. Engineers who want to work in this kind of environment seek us out. So, if you are looking for the right structural engineering partner, you should seek out someone who matches your values.
3). History: Similar to experience, would you like to know what years do to a structural design project? Then you'll need to find a firm that has been around for years and can show results in the years that followed. It pays to check references and take the time to go back a few years. A solid firm will be able to give you solid references.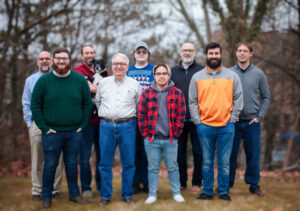 4). Teamwork: Structural engineers work closely with architects and builders, who collaborate to ensure that the project adheres to building codes and safety standards. The architects need to trust the structural engineers, and the structural engineers need to provide great advice to the builders. You'll want to find an engineering firm that plays nice with others.
5). Community: What an engineering firm designs will last a long time, and be a lasting part of the efficiency, safety, and long-term future of the community. Make sure your structural engineering firm cares. You can tell just by talking with the owners. Best of all, if their entire team practices "Extreme Ownership" where each employee feels empowered to lead, you'll be able to tell whether the entire firm believes in your project and your vision for the community.
As in any walk of life, you have a choice when it comes to structural design engineering firms. The choice you make will impact the budget, efficiency, timeline, and success of the project. Choose well.
For more information about TTR Engineers, and how we might be able to satisfy the needs of your project, call us today.